Your guide to investing in Egypt's new administrative capital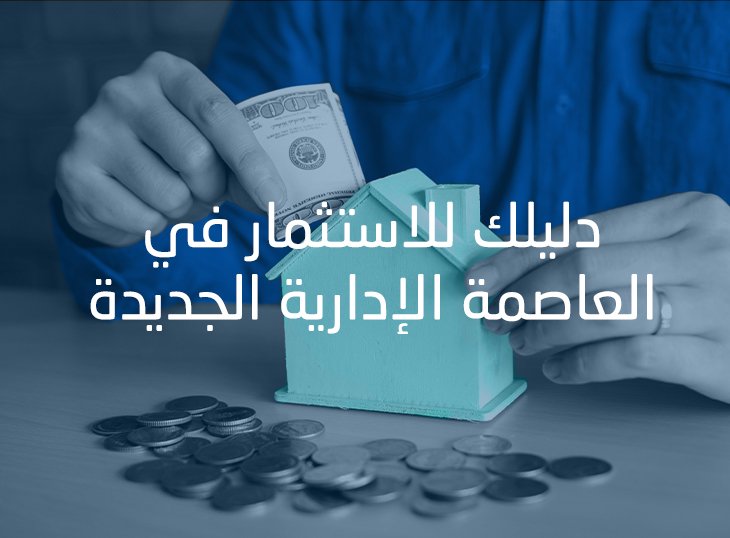 Your guide to investing in Egypt's new administrative capital
Amal Ali 27 Apr 2022
Nowadays, everybody is searching for ways to secure their future and their family's stability. While facing everyday struggles and coping with worldwide economic crises we find ourselves forced to diversify our sources of income to maintain a stable life.

Like any other country, Egypt is living what the world has to live with its ups and downs. But as an investor or even a regular person who is just looking for financial security, we encourage you to hub on the wave of economic flourishing and prosperity that Egypt is currently living.
We can all notice the great leap that happened inside the country over the last few years. New infrastructure, new roads, and traffic facilitations and we can't ignore the initiation of the national project The New Administrative Capital of Egypt. The projects will lead the future of the economy of Egypt in the upcoming years.
Investing in real estate
Like any other aspect of life, it can be tricky and challenging to decide in which area to invest your money. Here we will help you find out why you should consider investing in real estate and the property market.
Over the last couple of years, it became obvious that nothing is secure or stable as it appears to be. All markets and businesses got majorly affected due to the pandemic or the following consequences. Just a few sectors were able to stand still facing all these challenging events. One of these sectors is the real estate sector.
Real estate provides you with a couple of benefits that can help secure your financial future. First of all, you don't have to be a big developer to start investing. Also, you are not restricted to a certain amount of money to start with. Whatever you have is good enough.
If you are still hesitant here you have 5 advantages of real estate investment:
1. Real estate value increases over time
It's known that normally once you buy anything like vehicles and gadgets, its value starts to go down if you think about reselling. The other way round happens with real estate, the value increases over time. This means whatever you pay now will multiply automatically in the future without even thinking about it.
2. It is a safe and secure investment
Unlike other industries, real estate doesn't get majorly affected during times of hardships. Sure, it may get affected but the real estate market is very resilient and bounces back so quickly.
3. You can take control of your investment
Even if you are not an expert and have huge knowledge regarding real estate, you still can manage your business hassle-free. As well you can have total control over your investment and you have different ways and choices to go through.
4. Real estate flourishes along with the growth of the economy.
There is no need to say a lot about this one. During times of prosperity and economic growth, the real estate sector starts to boom as well. A flourishing economy means an increase in external investments that reflects directly on the property market. Also, it allows individuals to feel more secure investing their money instead of saving it.
5. Real estate is one of the sectors that get huge governmental support.
If you are afraid that maybe after you decide to invest in real estate it will lose its hype. We are here to tell you that's not going to happen. Real estate is one of the sectors that gets huge support from the government which means you as an investor will benefit from all facilitations provided by the government. For example, if you own any unit in the New Capital you will be able to benefit from the monorail.
Why you should consider New Capital for your coming investment
Maybe you are wondering where you should invest in the Egyptian real estate market by now. Here we will get you through why it is better to invest in New Capital.
First of all, you should know that the New Capital will be the future hub of administrative and economic growth. According to the vision of president Abdel Fattah el-Sisi Egypt is taking huge steps toward recovering its economy after.
If you think that The New Administrative Capital will only focus on the administrative aspect, you are mistaken. The new capital offers a wide range of administrative, commercial, and even residential projects.
It is worth noting that if you are going to be a business owner, an investor, or even a normal resident, then you will be able to take advantage of all the services provided by the government. The whole governmental district will be near to you. There will be a financial district where you can have access to all banks. The downtown area will contain a variety of commercial buildings and malls. You are very near to Egypt international airport and the new capital airport as well. Regarding the amenities and entertainment, the government was very keen on implementing a vast range of options like museums, greenery landscapes all over the New Capital, city walks, and the presidential palace.
Best projects and recommendations
The new administrative capital is a cosmopolitan project, it offers a wide range of projects and investments. Including governmental projects and the private sector as well. You can take a look at the list of developers that we work with.
We did the work for you. Here you have different projects inside the New Capital to look at and maybe you can choose from. With a variety in locations and prices.
Residential:
- Oro New Capital:
Ava Mina Group presenting Oro New Capital. Oro compound has a very premium location within and also ease of movement within the new capital. The project's location is very near to the main roads like Suez road.
The spaces vary to suit all needs, starting from 120 square meters up to 210 square meters. The price per meter starts from 11,000 EGP, which is considered a very competitive price. Oro Compound provides you with internal services that prevent you from getting out of it. You will find entertainment spaces, a mosque, a nursery, and a gym that includes a multi-use playground. In addition to a commercial mall.
For more residential options visit our projects page.
Commercial:

- Cayo Mall New Capital:
Cayo Mall New Capital. If you are looking for your next investment, here you have a unique opportunity to own your project in Cayo Mall in the heart of the Administrative Capital. A distinctive project presented by Contact Developments. Located in the downtown district next to the administrative district. They aim to facilitate and enhance the experience of visitors as well as owners. Cayo Mall- the Capital, is only 3 minutes away from the Monorail Central Train Station.
Cayo Mall- new capital provides various spaces for units, starting from 40 meters up to 100 meters. Installment payment is up to 9 years upon a down payment of 10%. Also, when you pay a 30% down payment you will be able to pay your first installment after receiving your unit.
Administrative:
- Central capital New Capital:
If you are looking for value and distinction, you should consider the Central Capital New Capital project. A medical and administrative building provided by Amer Group for Development. In the heart of the financial and government district in the new capital, you will find Central Capital. The project has many advantages, the first of which is undisputed, the location. It is located directly in front of a group of banks such as the Cairo Bank, the National Bank, and the Central Bank, in addition to the Egyptian Stock Exchange building.
Central Capital project offers a large number of offices and units, starting from 30 square meters and reaching 930 square meters for duplex units. Meter prices start from 40,000 EGP. Installment and repayment systems are also available. If you pay a 10% down payment, the installments will be over 7 years. If you pay a 15% down payment, the installments will be over 8 years. It is worth noting that all units will be delivered within two years and fully finished.
- White 14 Business complex:
MBG Group is implementing the White14 commercial and administrative complex on a land area of 4816 square meters. The project overlooks the main street with a width of 92 meters, which is the largest street in the Downtown area. The project building consists of a ground floor and 14 floors. The commercial units start from the ground floor to the first floor, while the administrative units start from the second floor and extend to the 14th floor.
As for the administrative units, the spaces start from 37 square meters at a meter price that starts from 23,000 EGP. As for the commercial units, their space starts from 32 meters up to 200 meters and comes to 80,000 EGP per square meter.