Souq EL Dahab New Capital
Last Updated At : 19 December 2021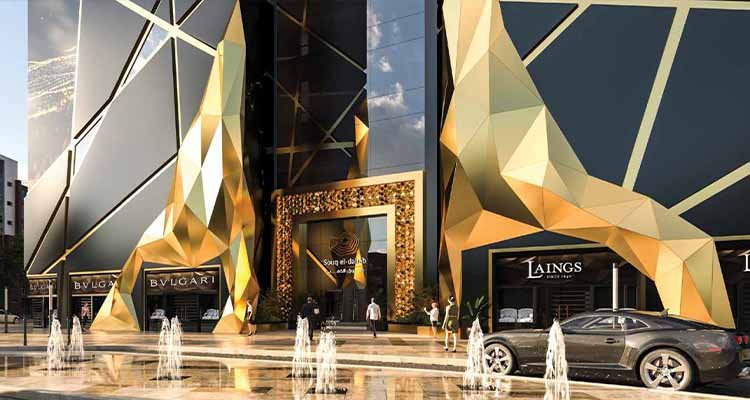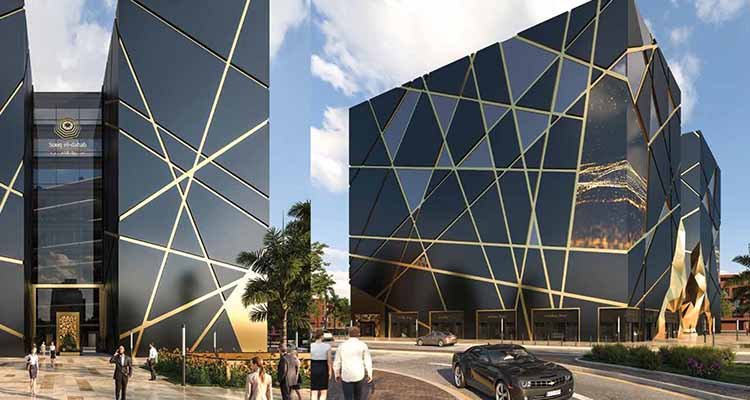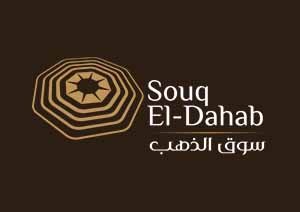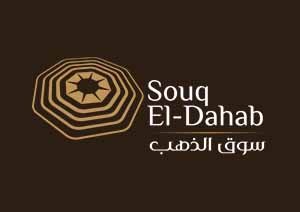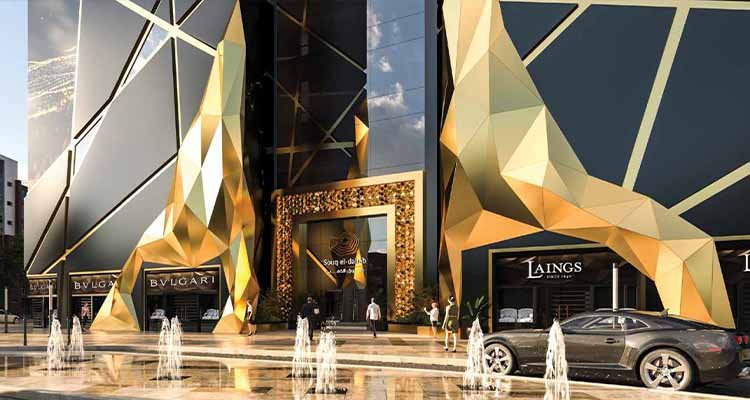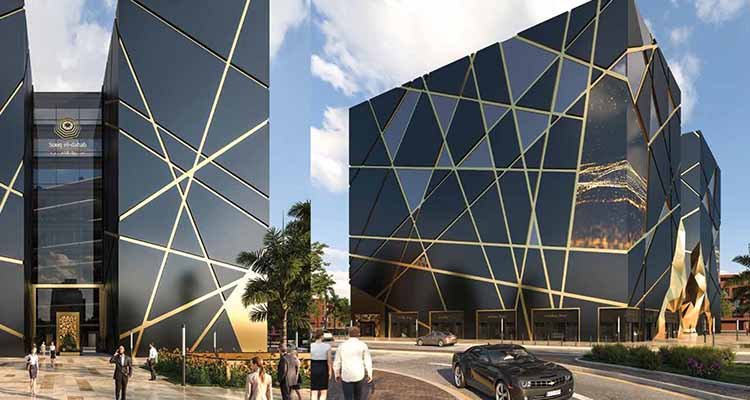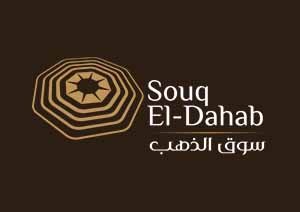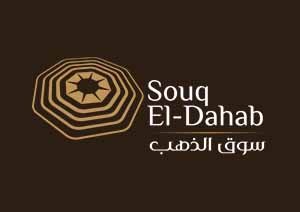 Souq EL Dahab New Capital (0 Properties)
Starting Price: 936K
Down Payment: 15 %
Installments: Over

6

years
Delivery Date:

2023
Description
Souq EL Dahab New Capital an unparalleled investment opportunity, A Golden Opportunity in the heart of Cairo's New Administrative Capital
SOUQ EL DAHAB is the first specialized jewelry project in Egypt, dedicates 8,300 m2 to a state-of-the-art mall. inspired by world Gold Markets, the project introduces an impressive 8 - Floors mall dedicating 5 floors for commercial purposes and 3 floors to administrative offices, Spaces from 15 to 198 square meters and the price from 30,000 to 90,000 per square meter and "Souq EL Dahab" mall is located in the commercial sites in the New Capital MU23 in front of the Sports City, which is a street and a main entrance to the New Capital from the Suez Road, and the payment methods are 15% submitted in three payments and the rest over 6 years and there are more than payment plan & Multiple discounts.
Carefully designed with investors safety in mind, the project will deploy the latest technology in security system and surveillance 24/7 by a leading global name in the field.
It all started with a national dream to establish a new, thriving capital for Cairo; one that would reinforce the city's leading postation as vital hub for cultural, political and economic activity in the MENA region, as well as an innovative vision of a sustainable future by replicating the city's historic and natural richness.
IC Group is committed to contribute in the cultural migration taking place by replicating Souq EL Dahab being one of fatimid Cairo's significant landmarks in the heart of the New Capital.
By introducing some of the largest and leading names in jewelry industry, IC Group brings to fruition a unique vision of diversifying economic activity under one roof.
Souq El Dahab Innovative Design
Souq El-Dahab innovative design inspired by gold's refined nature and elegance it evokes, Souq El Dahab has been carefully designed to boast innovative and fluid lines where dark black smoothly contrasts with Shimmering gold.
Focusing on dynamic perspective to create an impressive 3-D like facade, set to become the jewel of New Cairo's Administrative Capital.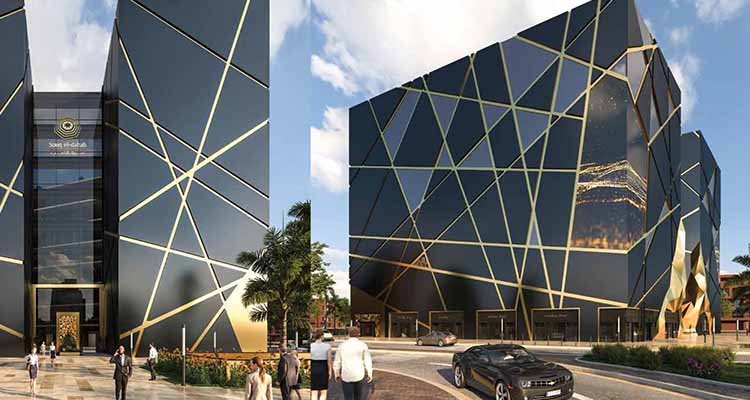 Souq El Dahab Location
SOUQ EL DAHAB Location in the pulsating heart of Cairo's New Capital
Souq el Dahab is tragically located in MU23; a lively commercial district (Downtown) that lies at the intersection of R3 and R2 residential areas a total of 5,500 units completed.
Nestled on the main axis connecting the New Capital with Suez Road, Zayed's Ring Road New Cairo and Shrouk City.
Lying landmarks such as New Capital's International Airport, the prestigious Embassies District, The Green River and The Chiness Skyscriper, Easy access to the Olympic Village, Smart Village and the European University, allowing investors to tap into a large prospect market in surroundings areas.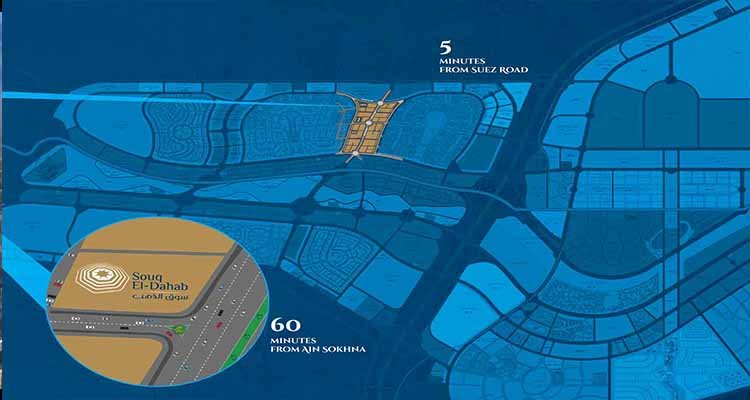 Souq El Dahab Is a World-Class Aminities at Your Finger Tips
Souq El Dahab adopts a holistic 360 degree approach in providing comprehensive solutions for buyers / clients by offering a hassle-free experiences that allows them to enjoy their shopping, while avoiding unnecessary inconveniences found in Cairo's Gold Market; such as parking - bathrooms, or long walks. Therefore the project introduces a wid array of world-class amenities to ensure your shipping or investment experience is fun and smooth.
Central Air-Conditioning - Fire Fighting Systems - Escalator - Electric lifts - Data fiber optics cable for each unit - Bathrooms for men and women - Steel safety doors - Availability for trademark positioning on the facade - Mega led screen.
Mall Souq EL Dahab helps flourishing the jewelry market in Egypt
Promoting the trade of jewels in Egypt, IC Group belives in the importance of creating added value for the jewelry industry in Egypt, IC Group will be holding a number of conferences, direct activities and comprehensive marketing campaigns in collaboration in the New Administrative Capital.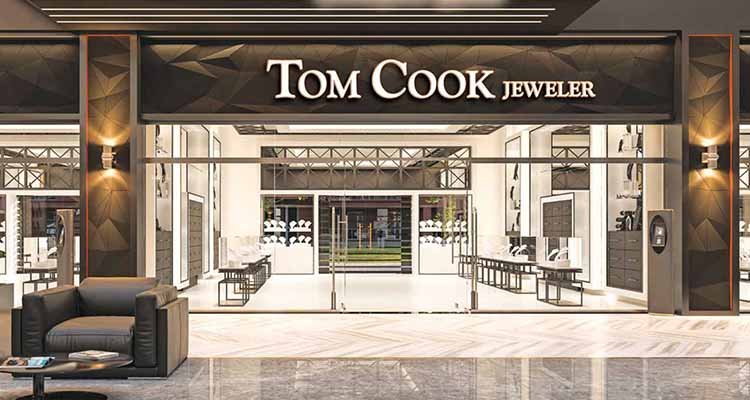 Souq EL Dahab Brings To You The Best In Safety Solutions
Souq EL Dahab New Capital is proud to partner with world-renowned security system companies, paving the way for a cutting-edge experience, integrating the best in technological advancements to create the perfect place where safety, productivity, security, efficiency and compliance come together under one roof.
By implementing Command and Control System, owners can being fully in control of their shop's safety through a mobile application. Authorized access cards and finger and face recognition features allow the mall's surveillance cameras to instantly send out data to the control room to approve valid identities, while notifying owners through analytics and reports on the mobile app, granting direct access to the space.
Souq EL Dahab also deploys an advanced Control Room Operations and Communication Vantage Solution boasting a highly flexible gateway. In case of security threats or branch, the smart solution's filter engine will not only identify incidents, but also sends out recorded camera footage along with GPS locations to security personnel, assigning them with individual work flow and trails until the problem is resolved.
Souq EL Dahab provides commercial and administrative spaces
Souq EL Dahab offers to all gold dealers and owners of gold companies in egypt a different areas according to their desires, the spaces start from 15 square meters to 198 square meters.
Find out the prices of Souq EL Dahab Mall New Capital
Souq EL Dahab Mall prices start price per square meter from 30,000 to 90,000 per square meter.
The gold market offers you multiple payment plans and discounts
Souq EL Dahab Payment methods: 15% in advance in three installments and the rest over 6 years. There are multiple payment plans and discounts.
How to Book a unit in Mall "Souq EL Dahab" New Capital?
If you are a Dahab merchant, book your store or office in the Souq EL Dahab New Capital with multiple payment plans and discounts
Take the opportunity and book your business unit in Souq EL Dahab New Capital, provided by IC Group, contact us on 01003366453- 01126662221 Or Request A Call-Back
New Capital Security System
The New Capital deploys the latest in advanced technology to provide the first central security system implements a state-of-the-art Surveillance Vantage System which monitors the entire city through 6000 cameras, so investors don't need to worry about a thing whether inside or outside of the mall ensuring a safe environment like no other.
Why Cairo's New Adminsrative Capital?
The New Adminsrative Capital enjoys a distinct geographic location - only 60 km from Ain Sokhna, Suez and Central Cairo impressive area of 170,000 faddens which equates to Singapore's size, expecting to attract 40 million people upon its completion, The capital's Downtown and its financial and business district rool out on 700,000 m2, attracting investments worth $4.3 billion, Afully-integrated capital boasting world-class residential, commercial, medical, financial estblishments and leading educational institutions, the capital will boast its own independent International Airport, in addition to an electrical trains and main train station connected to Egypt's railway system and it will deploys the latest in advanced technology to provide the first central security system innovative public safety services, ensuring a safe environment like no other.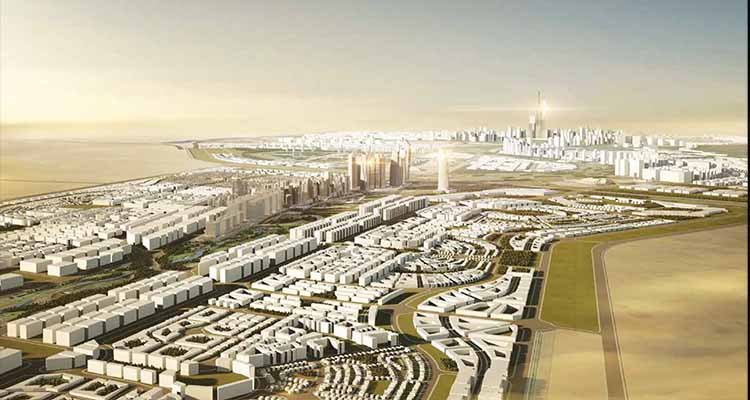 Check out the Best Projects in New Capital Egypt & New Capital Compounds Prices
Administrative and Commercial projects in New Capital
Office Spaces for sale in New Capital - Offices for sale in New Capital City Click-Here
Own your office building - At Heartwork by Mountain View‎
Office Space In New Cairo - Flexible Deals Tailored To You‎ Click-Here
Commercial Properties for sale in New Capital City
OTHER PROPERTIES IN NEW CAPITAL CITY
Compound Unit Types
Area

48 m2 - m2

Price

2.69M EGP - EGP
Area

24 m2 - m2

Price

936K EGP - EGP
Compound Location
About the developer
IC Group founded in 1995, IC Group consists of three companies; IC Group Real Estate Devolpments, Real Estate Property Managment & IC Group Trade. IC Group Real Estate Developments the developed residential project as Smart Life located in New Cairo, Easy Life Read more
Facilities and Services
Cafes

gym

Shopping Stores

24 Hours Security

CCTV