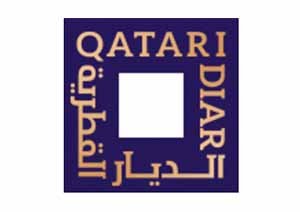 Qatari Diar Real Estate
29 August 2021 Last Updated At
(1 Properties)
(1 Projects)
Qatari Diar Real Estate Company was established in 2005 by the Qatar Investment Authority, the sovereign wealth fund of the State of Qatar. Headquartered northeast of the capital Doha on the coast of the Arabian Gulf. "Qatari Diar" Developments was entrusted to support Qatar's growing economy a... Read more
Qatari Diar Real Estate Company was established in 2005 by the Qatar Investment Authority, the sovereign wealth fund of the State of Qatar. Headquartered northeast of the capital Doha on the coast of the Arabian Gulf. "Qatari Diar" Developments was entrusted to support Qatar's growing economy and coordinate the country's real estate development priorities. Qatari Diar has a joint capital of $8 billion, in addition to 50 investment projects under development in 22 countries around the world. The total investment value of the Qatari Diar is about $35 billion.

It is noteworthy that the Lusail City project, which was launched in December 2005, is the most important station for Qatari Diar. It quickly received great praise for its use of innovative methods and approaches in the real estate world. The developed city, which is self-contained, is the largest single development project implemented in the State of Qatar. It is currently under construction, but Lusail already indicates the progress of Qatar on a large scale, which reflects the vision and quality that has become synonymous with Qatari Diar, and Qatari Diar is the developer of the City Gate in New Cairo, but because of the boycott that has occurred between Egypt And Qatar, the company has suspended its work in Egypt, and it is reported that more than 700,000 customers have contracted with the company during 2015 and the launch of the first phase of it, but many of them have terminated the contract after the company stopped for a period.
Qatari Diar Real Estate Investment Projects
Anantara Tozeur Resort in Tunisia
The St. Regis Hotel in Cairo
Chelsea Barracks
City Center DC America
Conrad Hotel, USA
Doha Convention and Exhibition Center in Qatar
CityGate Project
Lusail City
Ras Al Hadd
Sheraton Garden
Lake Qatifiya
New Giza
Msheireb
Howara
Diyar Deshonbeh
Sea Pearl Atakoy
Blue Horizon
Southbank Place (Shell Centre)
The Conrad
The Conrad Washington, D.C. will be a 360-room luxury hotel offering 30,000 square feet of ground-floor retail space at CityCenterDC that will complement the already successful luxury retail component of the first phase of CityCenterDC. In partnership with Hines, Conrad Washington D.C. marks Qatari Diar's second investment in the U.S. property market. As one of the few epicenters of political, cultural, and economic power in the world, the Conrad Hotel Washington D.C. will be the perfect destination for global luxury travelers.
City Center DC America
City Center D.C is the 10-acre, mixed-use development landmark located in the heart of the nation's capital. A unique, pedestrian-friendly development, located in downtown Washington, D.C. The vibrant neighborhood at CityCenterDC is comprised of 191,000 square feet of retail space, 216 condominiums, 458 apartment units, 522,000 square feet of office space, and public open space serviced by an underground parking facility for 1,550 vehicles. In addition, the integrated public park and plaza, all lie near excellent public transportation. Its prominent location in the heart of the District puts City Center D.C close to the region's best cultural destinations, two of the city's busiest Metro stations, and the Walter E. Washington Convention Center. The project has become the unequivocal centerpiece of Downtown DC and represents Qatari Diar's first significant investment in the US. The development, designed by renowned British architects Foster + Partners, is a model for responsible, environmentally sensitive multi-use developments. From building techniques and construction materials to infrastructure, high-performance technologies, all elements of the master plan positively influence the local environment and everyday quality of life.
Anantara Tozeur Resort
Anantara Tozeur Resort is a new luxury escape under development in the southwest of Tunisia, in the city of Tozeur - a hub of Tunisia's Saharan tourism and easily accessible from the Tozeur-Nefta international airport, or by road or rail. The oasis city is known for its brick architecture and vast palm tree fields. The new-build Anantara will offer 93 luxurious guest rooms and villas, including pool villas, a selection of restaurants and bars, meeting and business facilities, a kids club, a health club, and a spa. The resort centers on a central oasis containing guest facilities for relaxation and leisure – a lush retreat from the surrounding desert environment. Furthermore, the resort will offer visitors the best of Arabian culture and hospitality in exclusive five-star surroundings all year round. The design is inspired by the architectural traditions of the region, together with the austerity of the landscape, and blended to produce a modern interpretation of luxury.
NEW GIZA is the first and largest integrated upscale development in Egypt. Spanning over 1,500 acres, the development is strategically located in the 6th of October district, around 23 kilometers outside of Cairo, on Cairo-Alexandria Road Upon completion, the project will encompass a total of ten neighborhoods. Greenery is of key importance throughout the development and within each neighborhood - with 87% of NG's total land planned for open space and wide streets. In addition, the development will feature a pedestrian area with a 5-star hotel, offices, restaurants, cinemas, art galleries, a music hall, and exclusive retail areas with department stores that have been inspired by Old Giza but still boast state-of-the-art technology. In addition, the development will contain a wide variety of residential properties, a fully equipped sports club, and a signature 18 hole golf course. Meanwhile, the medical "district" of NG is located on approx. 200,000 sqm plot of land, is planned to become one of the most comprehensive health vicinities in Egypt.
Finally, a community center offers daily necessities for all purposes. New Giza's design inspiration is to revive the spirit and charm of Cairo's old neighborhoods, namely Zamalek and Garden City, with a new architectural vision. Contemporary architectural design guidelines are set throughout, offering modern and neo-classical designs that boast a variety of unit types with the same color palette to preserve a harmonious look, as well as a picturesque and organic landscape with smooth curved streets.
The St. Regis Hotel in Cairo
The Nile Corniche project is one of several significant Qatari Diar projects in Egypt. Located on the banks of the Nile River in the heart of Cairo, next to the World Trade Center, the Nile Corniche is a high-end complex featuring two splendid towers and a retail atrium. As a full-service ultra-premium hotel and serviced apartments with a total of 515 units, the St. Regis Hotel will be well-positioned to provide first-class hospitality and amenities in this rapidly developing part of the world. The hotel will also offer stimulating meeting spaces encompassing a space of 2,339 sqm, including a main 963 sqm ballroom, indoor and outdoor swimming pools, and a health center the St. Regis Hotel marks the ultimate expression of contemporary luxury in Egypt's thriving capital city and will be an important component of high-rise hospitality and residential complex.
CityGate New Cairo is an ideal city to bring out the creativity within you, as everything in it stimulates creativity, creativity, and positivity. Qatari Diar Real Estate Development Company has established CityGate Compound Fifth Settlement, as a completely self-sufficient city in the heart of New Cairo, where you will find everything you need, It is characterized by calm, green spaces, facilities, and services equally distributed among the units. CityGate New Cairo is located 30 km southeast of Cairo, and 30 minutes from Cairo International Airport. It has different areas of Standalone villas, townhouses, twin houses, and apartments, overlooking the A very large golf course with a capacity of 18 holes. The Compound City Gate, the assembly, includes an area of about 720,000 meters for commercial purposes and activities, 3 international schools, 4 international hotels, and a sports club. Experience urban living that is unparalleled in New Cairo at CityGate, an integrated mixed-use community with everything you need in one place with luxury amenities in the tranquility of nature spread over 8.5 million square meters in an iconic location.
How do I book a unit in City Gate New Cairo?
The Compound CityGate New Cairo Fifth Settlement is one of the best residential projects in New Cairo for the year 2021-2022, as it has services, features, and green spaces that make you feel comfortable, private, and calm.

To get the best offers and prices, contact us on the following numbers, you will find what you like, we have all the options to meet all your needs 01003366453 - 01126662221