Infinity Investments
05 December 2021 Last Updated At
(0 Properties)
(1 Projects)
"Infinity Investments" is a real estate development company, and one of the SKY Group real estate investment companies, and it is the developer of D Square Tower New Capital, as well as the developer and executor of the Mall N Square New Cairo project, Infinity Investments combines the accumulated e... Read more
"Infinity Investments" is a real estate development company, and one of the SKY Group real estate investment companies, and it is the developer of D Square Tower New Capital, as well as the developer and executor of the Mall N Square New Cairo project, Infinity Investments combines the accumulated experience of the most professional people in real estate development, industry, and investment, with strong resources, international knowledge, and expertise.
Sky Group
SKY Group has a proven track record of more than 20 years in the technology and communications solutions sector. Since its inception, SKY Group has grown into one of the most reliable and reputable companies, with a workforce of more than 2,000 employees, and a wide geographical reach Where it exceeded 80 sites and regions.
Over the past years, SKY Group has succeeded in building a long-term relationship with major local and multinational clients in more than 30 countries including Egypt, the USA, Saudi Arabia, Sudan, Bahrain, Kuwait, Oman, Lebanon, Pakistan, Zambia, Tanzania, Rwanda, and the Maldives. Through its commitment and customer-oriented culture, It has proudly provided more than 3,000 value-added projects including the latest technology and infrastructure solutions for large-scale real estate projects, In addition to 6,200 units delivered on time for various projects, the total area of tourist housing and commercial projects developed by the company is 970,000 meters.
Infinity Investment Real Estate Development
At this time when Egypt is living a revolutionary period in the field of real estate investment and development, Infinity Investments was established to enrich this sector with its customer-oriented culture and innovative ideas to provide commercial and administrative projects with great value and the highest quality standards. It focuses on expanding its geographical scope and aims to provide excellence every time to lead the real estate market, to be an important contributor to social and economic progress and a developer whose clients are proud of, and whose employees are proud to work for. Infiniti Investments is ISO 9001:2015 for Quality Management and ISO 45001:2018 for Occupational Health and Safety Management.
Infinity Investment works to offer unique, beautiful, smart, user-friendly projects for enjoyment of use and above all great value for money as a fixed asset that increases over time, and always takes into account in all its decisions how this project will look in 5 years and what are its complications, and reflects the decisions it makes in engineering The architecture, location and materials used will sustain the project in the future, Infinity Investment was born to enrich the real estate market sector with its new customer-oriented, value-added and new ideas for the customer. Also to enjoy its use, starting from ancient Egyptian architecture until today.
The core values of Infinity Investments are the combination of heart and mind without compromise between them, as it offers projects that make you feel enjoy using, what distinguishes it with secrecy between heart and mind, irrational and rational designs, and its architectural designs, which makes it unique in its buildings, it not only presents projects but offers Traces and landmarks that will remain engraved in our hearts.
There are a lot of good projects in the market but the time plan adherence, after-sales satisfaction, operations, and maintenance is an issue that not many real estate developers can handle, causing frustration for many clients, but at Infinity Investment they pay special attention to clients.
Infinity Investment Projects

In Square Mall New Cairo
N Square Mall New Cairo is located in a prime location in the heart of Al Narges District in New Cairo, and the mall is the first of its kind in the Narges Buildings area, minutes away from the 90th Street and the American University, and near Cairo Airport, N Square Mall New Cairo consists of 4 floors and a variety of units between commercial, administrative offices, and medical units, and includes commercial spaces including retail stores, hypermarkets, restaurants, entertainment outlets, and much more - all under one roof-, with a built-up area of 8240 square meters, N Square Mall has been designed with great attention to detail in every corner, and its U-shaped design allows a clear view of all stores and outlets. , And 10% down payment, and installments up to 6 years, and the spaces of In Square Mall New Cairo start from 40 meters.
D Square Tower New Capital is located in a strategic and privileged location in the New Administrative Capital and is located on the main street with a width of approximately 50 meters, on an area of about 7800 square meters, and the units vary between commercial and hotel apartments, The spaces start from 38 meters for commercial units, and 40 meters for hotel units and apartments, and the prices of D Square Tower units start from 1,100,000 Egyptian pounds, with the lowest down payment of 10% and the longest payment period of up to 10 years. Infiniti Investments worked to provide all services, in cooperation with the largest administrative and consulting entities in Egypt and the Middle East, such as Ray Design, FACIL for Hotel Management, Hany Saad, and Helal Construction.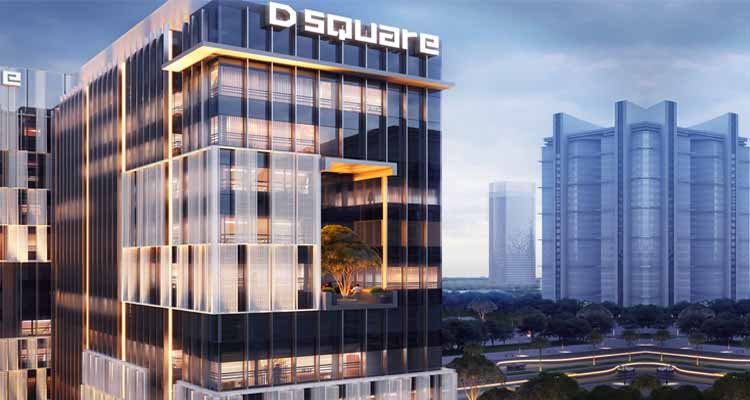 D Square Tower New Capital is one of the best commercial and hotel projects for the year 2021-2022, in the New Administrative Capital, as it has services, features, and green spaces that make you feel comfortable, private, and calm, in addition to that all services are in the interest of your business.

To get the best offers and prices, contact us on the following numbers, you will find what you like, we have all the options to meet all your needs 01003366453 - 01126662221