5 reasons why you should own you home with Yaru New Capital Compound
5 reasons why you should own you home with Yaru New Capital Compound
Inland 24 Aug 2021
5 reasons why you should own your home with Yaru New Capital Compound
خمس أسباب تجعلك تتعاقد مع كمبوند يارو العاصمة الادارية الجديدة


أميز لوكيشن في منطقة ال R8 بالعاصمة الادارية الجديدة و اول قطعة في R8 علي المحور المركزي مباشرة والنهر الاخضر ودقيقة من الحي الدبلوماسي ومن اتجاهين الكمبوند منطقتين خدمات تحتوي على فنادق وجامعات دوليه ومدارس انترنشونال ومسجد وكنيسة ملحوظة مهم جدا شركة العاصمة قررت تخصيص المنطقة اللي قدام الR8 منطقة مولات وهتكون منطقة حيوية جدا وده علي خلاف R7.
مشروع يارو العاصمة الادارية الجديدة ليه قرار وزاري ورخصة مباني و ايضا البدء في الانشاءات خلال شهر سبتمبر 2021 والمشروع شراكة مع منظمة قويه في الدولة وهي وزارة الداخلية.
الاستفادة بالسعر الافتتاحي للمشروع و سعر المتر يبدأ من 8,900 جنية مصري، والنادي مجانا فترة الافتتاح والجراج 50,000 جنية مصري فقط واختياري.


نسبة البناء في مشروع كمبوند يارو العاصمة الادارية 19% فقط والمشروع عبارة عن فيلات وعمارات وعدد الفيلات 79 فيلا والعمارات 30 عمارة فقط وذلك للتقليل من لكثافة السكنيه في الكمبوند وزيادة الخصوصية.


كل المميزات باعلي استثمار واقوي عرض في العاصمة في الوقت الحالي وبافضل نظام سداد في العاصمة الإدارية 10% مقدم والباقي علي 10 سنوات أقساط متساوية.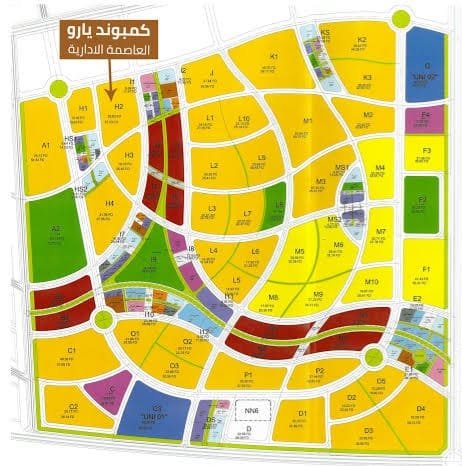 How to book a unit in YARU New Capital?
Perhaps it is the opportunity, try to seize it, and book your unit now in the Yaru compound project, the new administrative capital in the most strategic areas of the administrative capital.
To get the best offers and prices, contact us on the following number: 01003366453 - 01126662221

Yaru Compound was implemented by the real estate developer ATUM Global Developments, an Egyptian-Emirati-Saudi joint-stock company, and in cooperation with