Skala Mountain View North Coast
Last Updated At : 14 May 2023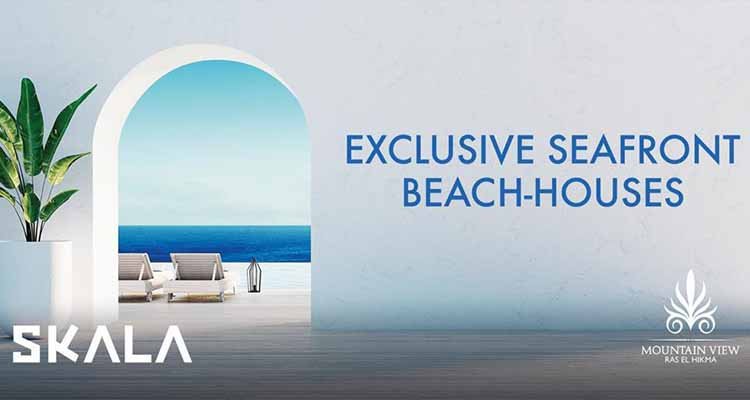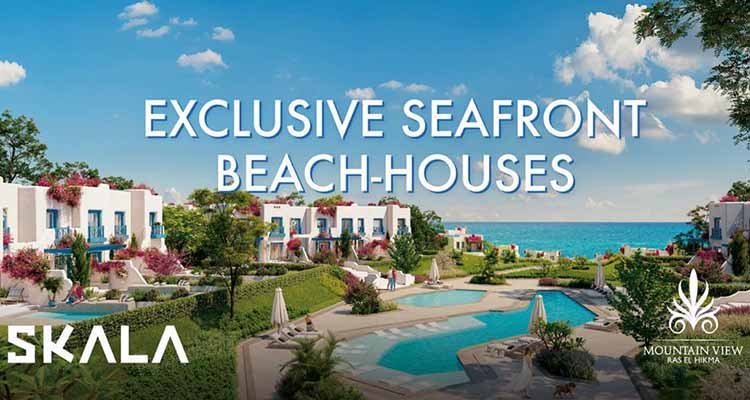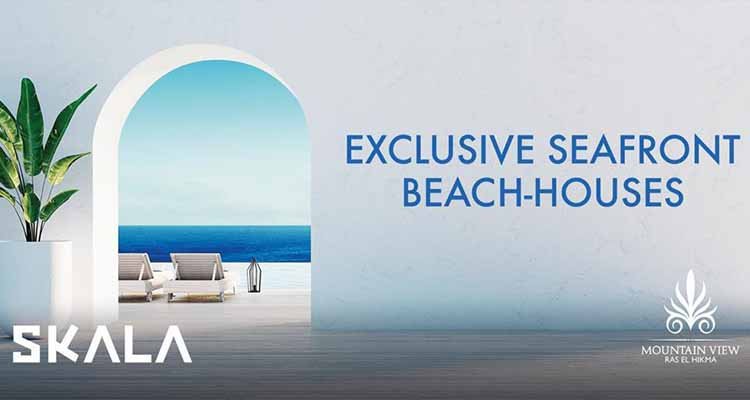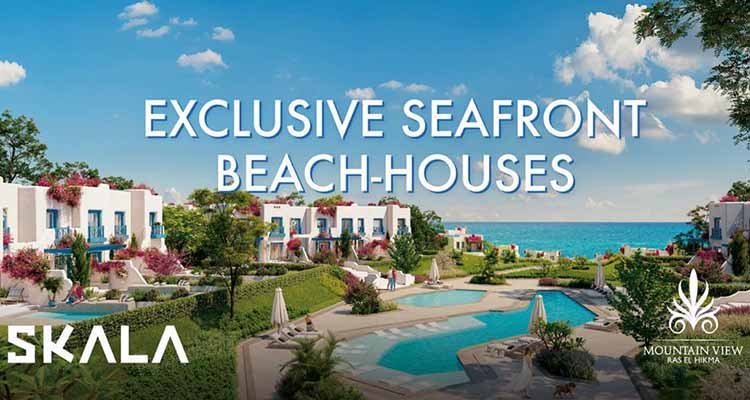 Skala Mountain View North Coast (4 Properties)
Starting Price: 5.5M
Down Payment: 10 %
Installments: Over

8

years
Delivery Date:

2027
Description
"Skala" Mountain View North Coast is the latest phase in Mountain View Ras El Hikma at 2021, SKALA Mountain View North Coast one of the unique resorts that have been established in the heart of the North Coast in the Ras El Hikma region, located 200 km from Alexandria Matrouh Road, It also achieved huge investments in the Egyptian market, while contributing to the implementation and establishment of many projects in all fields and sectors in the tourism and residential sectors, "SKALA Mountain View" North Coast Offers Chalets & Villas price starts from 1,950,000 EGP, If you have any inquiries about "Skala North Coast" by Mountain View, or you want to reserve your unit at the best prices, contact us at the following number 01003366453 - 01126662221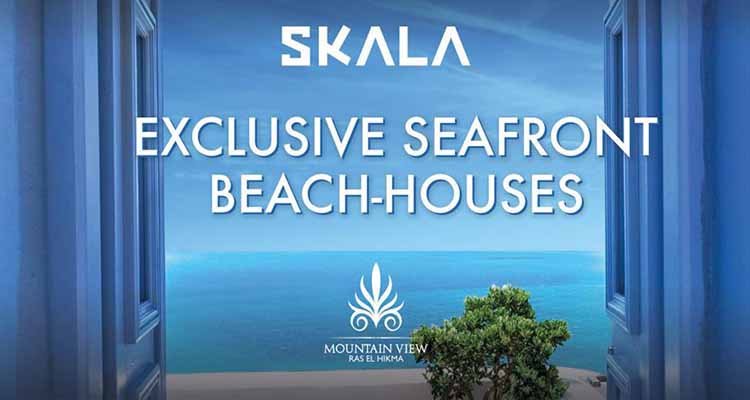 What is the location of Skala Mountain View Ras El Hikma?
Mountain View Ras El Hikma is located on the mountain view north coast in a privileged location at 200 km Alexandria Road in the Alexandria desert area / Marsa Matrouh on the sea directly.
Also, it's about 15 kilometers on the bay of Ras Al-Hikma and Sidi Abdel Rahman
While it is about 3 hours and a half or two hours approximately from Cairo and near the Marina, about 90 km and close to it, and Burj Al Arab airport.
About Mountain View Ras El Hikma North Coast's designs.
Mountain View Resort Ras El Hikma in the North Coast was designed with the best engineering designs and Greek buildings inspired by the spirit of the west in the form of the elegant Greek style that is characterized by sophistication and privacy, equipped with the latest construction methods.
It has also been equipped at the highest level as it mediates, and the residential units mix with Lakes and green spaces to give a wonderful and distinctive view and mix between the western and eastern society
While the owner company Mountain View was keen on this huge project to seek the help of a group of experts and consultant engineers in the implementation of the special construction works of the project and to put Master Plan for it and to provide an architectural technical unit with great care based on good taste and sophistication and suit all tastes.
They also make every effort to establish the project as fully as possible and to achieve a decent and good social level that differs from other tourism communities, while it is characterized by different prices and sizes of units.
What are the services & features of SKALA Mountain View Ras El Hikma?
Mountain View Ras El Hikma, North Coast, has many recreational services, and features that meet all the requirements of all resort owners, and that this project has a set of features, which are:
The village is surrounded by a vast and wide area of green spaces and landscapes, which indicate the beauty of the charming nature and the picturesque views throughout the village, as well as the chalets and villas to enjoy a wonderful and impressive view and views.
Mountain View Ras El Hikma North Coast has a private beach in the village to provide an atmosphere of privacy, luxury, and tranquility, in addition to a private beach for women.
19 swimming pools evenly distributed throughout the village of different sizes.
An area dedicated to children's entertainment.
Restaurants and cafes that offer the best hotel services in an atmosphere of sophistication and luxury that suits all tastes
There is a gas station in, Emirates Egypt.
Providing various entertainment places, as well as places for walking and cycling for entertainment and for hiking with family and friends.
The availability of various artificial lakes and lagoons that have a crystal blue color
Available inside the village of water games for entertainment
Establishment of power stations in Mountain View Coast
An integrated commercial area as well as a huge group of shops and malls that contain the most famous brands and international brands that suit all tastes
24/7 security and guarding to secure the entire village, equipped with the latest security devices and surveillance cameras, in addition to many other services
Solar energy to ensure that electricity is not cut off
The availability of Wi-Fi service
A health and sports club with all sports activities available
The presence of a group of international hotels
Medical clinics and a pharmacy to provide health care to village owners and inmates
Various entertainment centers to suit everyone and to entertain with family and friends
What are the prices and areas of SKALA Mountain View North Coast units?
SKALA Mountain View Ras El Hekma is characterized by different sizes, prices, and multiple payment plans, and it has villas and chalets for sale consisting of:
One-room chalets.
Two-bedroom chalets.
Three-room chalets
Ground chalets with a garden
Duplex Chalets
Prices and available spaces of villas and chalets
A distinctive Chalet 92 sqm consisting of two bedrooms, the price starts from 1,950,000 EGP.
Chalets 125-square-meter, the price starts from 2,100,000 EGP.
Standalone villa of 225 square meters, the price starts from 7,800,000 EGP.
Townhouse of 145 meters, the price starts from 3,100,000 EGP.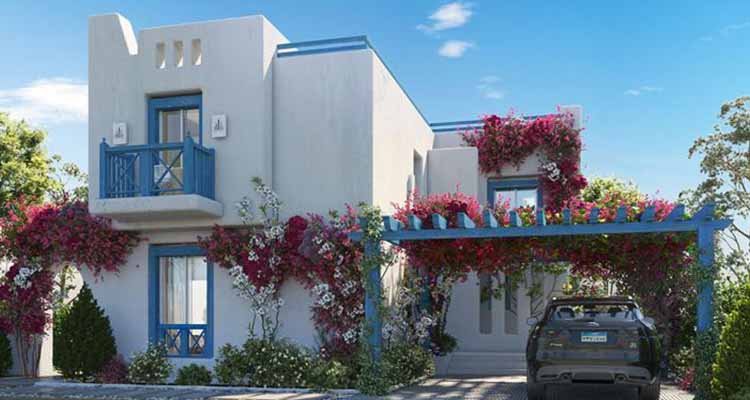 What are the payment plans for the SKALA Mountain View North Coast?
Mountain View provides suitable payment and payment methods for all customers for residential units.
10% down payment and 5% after 3 months and in installments over 8 years without interest, equal installments.
How to book a unit in Skala Mountain View North Coast?
If you have any inquiries about Skala Mountain View, or you want to reserve your unit at the best prices, contact us at the following number 01003366453 - 01126662221
For priority booking in Skala Mountain View - Ras El Hikma Request A Call-Back
Check out the Best Projects in North Coast Egypt & North Coast Compounds Prices
The most important characteristic of Mountain View North Coast
Therefore, Mountain View Ras El Hikma North Coast Resort is considered one of the finest luxury summer and tourist resorts on the North Coast, which has a wonderful and distinctive location on the most beautiful beaches of the Mediterranean in the Ras El Hikma area.
And an extension of a series of mega projects belonging to Mountain View Real Estate Development, and its location is characterized by being one of the best strategic and geographical locations on the North Coast.
Mountain View resort is built on a huge area and represents an unparalleled tourist attraction from various countries that carries the features of Egyptian tourism with an elegant architectural nature in terms of residential, commercial, and industrial as well.
While it is a unique opportunity, whether for village owners or investors, to spend the summer season, as the village targets all groups.
It is also distinguished by its beautiful scenery, dazzling natural view, and panoramic sea view from various directions.
It also has a variety of entertainment services and a more relaxing psychological atmosphere.
In addition, Mount View Village is a means of supporting and developing renewable energy and carbon dioxide in this region.
It also guarantees you life again in an ideal way and a sense of calm and a pure and clear environment. It also provides you with many advantages and entertainment services, as you enjoy the best view and a wonderful location.
Mountain View has also been keen to establish its project to be a building in the form of a modern style, while this global offering in the project represents a bright destination.
While the company has made a great effort to make it one of the best tourism real estate in Egypt and meet the needs of customers, it is also working to stimulate tourism.
It is also far from the noise and congestion found in other tourist resorts in an atmosphere of sophistication and distinction away from overcrowding and congestion.
Who is the developer of Mountain View Ras El Hikma?
Mountain View Real Estate is considered one of the leading companies in the field of real estate development.
While it owns the well-known name, which is owned by Engineer / Amr Suleiman, Chairman of the Board of Directors during the past years.
It also achieved billions and numerous investments in which it was keen to provide its customers with unique engineering designs and solutions for the modern urban community.
Mountain View Development (DMG) projects
Mountain View Real Estate Development Company is keen to present in its projects everything new and unique in the field of the real estate market.
It also achieved huge investments in the Egyptian market, while contributing to the implementation and establishment of many projects in all fields and sectors in the tourism and residential sectors.
This made it one of the most luxurious real estate companies and is keen to gain the confidence of its valued customers, and the company directs its interest in their business
To offer its customers all that is new and advanced, and to be keen on developing and increasing economic development
While Mountain View Real Estate Development has a group of huge residential and commercial businesses in various regions that have achieved more sales in its mega-projects over the past years.
We also mention that through the Mountain View Real Estate Company agreement, a partnership contract was signed with the Ministry of Housing represented by the Urban Communities Authority on the agreement in implementing the Mountain View iCity New Cairo project
The most important projects of Mountain View Company in New Cairo
New Alamein North Coast Projects:
OTHER PROPERTIES IN NEW NORTH COAST
Compound Unit Types
Area

92 m2 - 125 m2

Price

5.5M EGP - 8.1M EGP
Area

170 m2 - m2

Price

8.6M EGP - 16.7M EGP
Compound Location
About the developer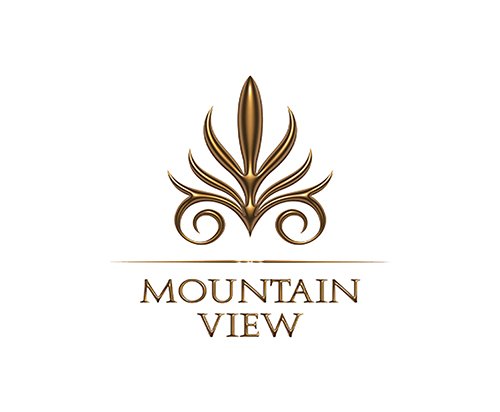 تأسست شركة دار المعمار ماونتن فيو مجموعة منذ أكثر من عقدين كشركة هندسية ومقاولات. تعد  شركة  دار المعمار ماونتن فيو DMG Mountain View اليوم مجموعة في الشرق الأوسط تضم شركات أعضاء في قطاعات الهندسة والعقارات والضيافة الثلاثة. و تم دمج مجموعة شركات دار المعمارماونتن فيو بشكل رأسي مع نهج مبتكر وفريد من نوعه في تنفيذ المشاريع. تسعى شركات المجموعة جاهدة بشكل فردي في... Read more