The Med North Coast
Last Updated At : 15 May 2023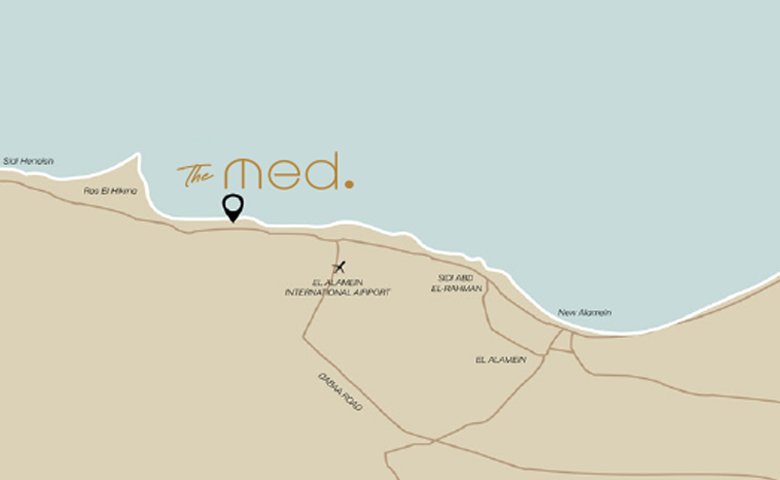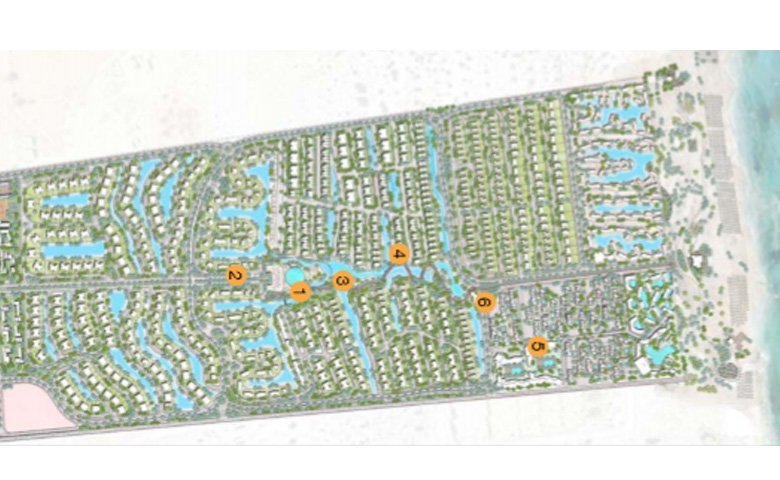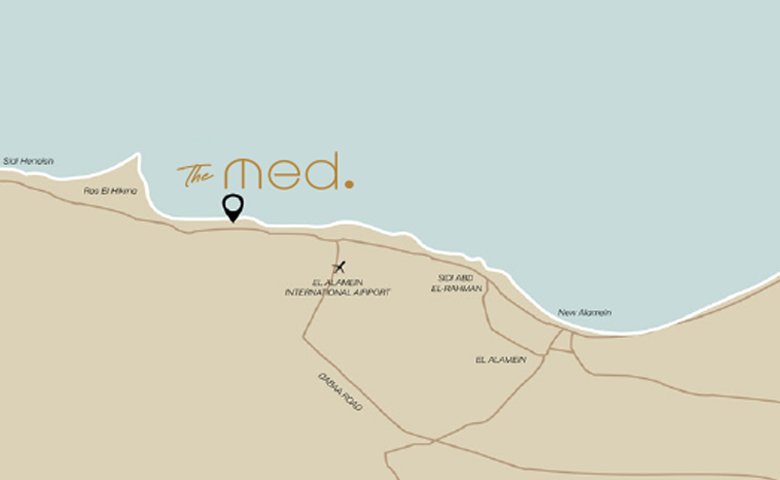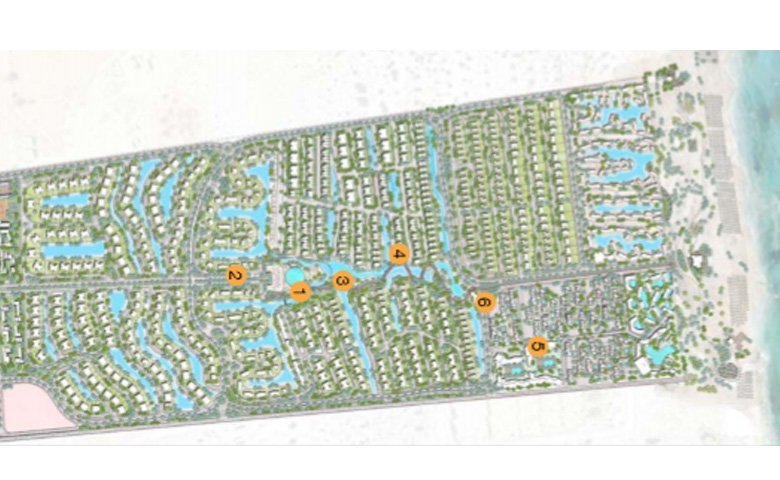 The Med North Coast (11 Properties)
Starting Price: 3.8M
Down Payment: 10 %
Installments: Over

6

years
Delivery Date:

2025
Description
The Med North Coast by people & places developments [Mediterranean] is not just your home by the Mediterranean [North Coast], this is a destination that lives within you, Taking you to our Mediterranean; the med is located on 307 Acres in KM 195 Alexandria - Marsa Matruh Road, 3.5 hours from Cairo, 15 mins to Dabaa Road, 40 mins to Alamein Airport, and 30 mins to Sidi Abdelrahman.
The med has a beachfront spread across 100,000 sqm beachfront area featuring luxurious cabanas and a five-star hotel, there is 800 m Coastline, There is 110,000 sqm, dedicated a place for everyone, this Mediterranean town will have swimmable lagoons, restaurants, cafes, small shops, the finest 2 boutique hotels in the area, and nightlife experiences right on the beach. the Med North Coast offers you luxurious standalone villas, twin houses, townhouses, and chalets. with fixable three payment plans starting from 10% downpayment up to 8 years installments.
For information, call us on 01003366453

Request the project brochure via WhatsApp 01125282828 Click here
The Waterfall Lagoons A Serene Water Spine
As the water flows from the highest point of the land, it creates a series of waterfalls and small lagoons lined with sandy banks and indigenous vegetation carefully planned to create pockets of natural gems perfect for meditation, swimming or simply walking through.
The River Walk Your Pleasure Walk to the Beach
A curated walking experience of sounds and sights that takes you through waterfalls, lagoons, and greenery all designed to be shaded naturally so you and your family can enjoy an effortless walk, jog, or a bike ride to the beach.
By the Beach A Mediterranean Town Experience
Walk barefoot from the beach and find your favorite corner café in the organic alleyways of By The Beach. A place for everyone, this Mediterranean town will have restaurants, small shops, the finest 2 boutique hotels in the area, and nightlife experiences right on the beach.
Campbell Gray Hotels & Resorts
"Exceptional Service with a Mesmerizing View" Overlooking the Peninsula, this pool deck clubhouse features a 1,800 sqm circular infinity pool overlooking the sea horizon, the waterfalls, and the peninsula below. All-day dining services for you and your guests by Le Gray.
All Mediterranean villas will have access to Le Gray's specialty hospitality services, from housekeeping to a menu of catering services as well as special privileges in booking priorities in The Med's Le Gray hotels.
Sustainability Park The Green Park
A fun and green learning experience for the future generation. The park will be an edutainment experience fun for kids and adults at the same time. Combining the latest in outdoor fun games and sustainability lessons on how to keep our planet well and happy, your time in the park will surely be rich in both joy and benefit. "The latest in outdoor fun games and sustainability lessons
Find out the prices and payment plans for the latest projects of AlQamzi Developments, Seasons North Coast. learn more
The Med North Facts
100,000 sqm Beach Front Area.
49 m Total Elevation.
800 m Coastline.
307 feddan Land Area.
110,000 sqm Swimmable Lagoons.
70% from BUA Villas, and 30% chalets.
Akam AlRajhi Launches New Project in Sahel D.O.S.E North Coast Learn More

The Med Location
The Med North Coast Resort A True North Star; Your home at The Med. is strategically located in KM 195, the new heart of the North Coast, and just at the forefront of the main roads from Cairo with proximity to the area's airports to give you the optimum convenience whether you choose to drive or fly.
15 mins from Dabaa Road.
30 mins from Sidi Abdelrahman.
35 mins from Sidi Heneish.
40 mins from Alamein Airport.
1 hour from Marsa Matruh.
2 hours from Alexandria.
2 hours from Borg El Arab Airport.
3.5 hours from Cairo.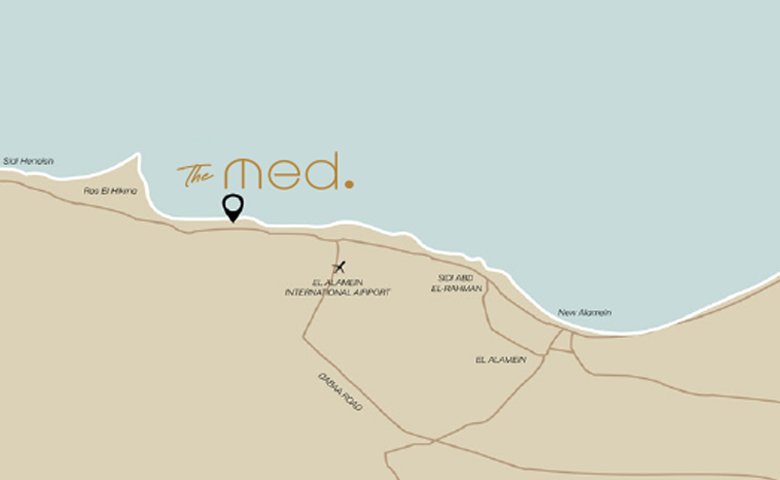 The Med North Coast Master Plan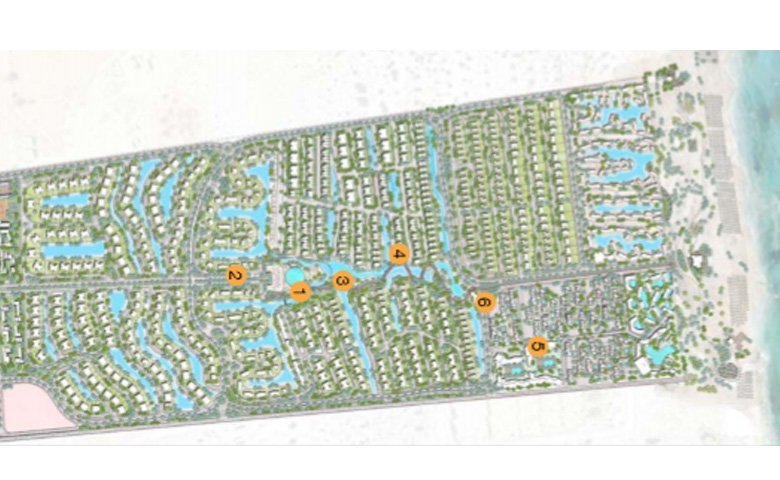 The Med North Design by Alchemy architecture
Contemporary Mediterranean architecture is designed to take in the north breeze and merge naturally with the environment. Soft architectural lines curve and seep effortlessly into the surroundings making every home a natural extension of the landscape. All north-facing homes are designed to encourage light and increase views while retaining as much of the magical northern breeze we all seek in our coastal homes.
Also, you may like Azha North Resort - New Project by Madaar Developments
The Med North facilities & amenities
The Med North Offers you WORLD CLASS AMENITIES as following and more;
Green spaces.
swimming pools.
jogging tracks.
5-star hotel.
lagoons.
Kid's areas.
Restaurants and cafes.
800 m White Sand Beach Front.
110,000 sqm Swimmable Lagoons.
100,000 sqm Beach Front Area.
5 Stars Sea-Front Hotel.
Clubhouse & Community Centers.
Commercial Area.
Electric Vehicles Charging Stations.
Sports Facilities.
Check out Latest Project Marsa Baghush Sidi Haneish by Shehab Mazhar

The Med North Coast Unit types
People & Places offers you in Med El Sahel;
Standalone Villas.
Twinhouse villas.
Townhouse villas.
Chalets.
The Med North Coast Payment Plans
The med offers you three payment plans to suit your needs.
10% Downpayment up to 6 years
10% Down payment + 5% after 3 months, up to 8 years.
10% Down Payment, up to 7 years.
Maintenance 8%.
The Med North Coast Delivery Date
People & Places announce the delivery of the med North Coast will start in 2026.
How to book a unit in The Med North Coast village?
Take the opportunity and be the first to know the details of The Med North Coast Al Sahel, the latest project by People & Places Developments,
For information, call us on 01003366453
Request the project brochure via WhatsApp 01125282828 Click here
Learn More about the newest project on North Coast by Marakez Developments
Compound Unit Types
Area

257 m2 - 262 m2

Price

9.4M EGP - 11.7M EGP
Area

106 m2 - 160 m2

Price

3.8M EGP - 7.3M EGP
Compound Location
About the developer
People and Places developments are the next generation community makers, creators of authentic, sustainable, young, and positive everlasting human experiences that ultimately create value for our community.People & Places design and build soulful people-focused neighborhoods and genuine experiences that celebrate and stimulate connections amongst the community & with nature. Read more