Centoo Mall New Capital
Last Updated At : 16 November 2023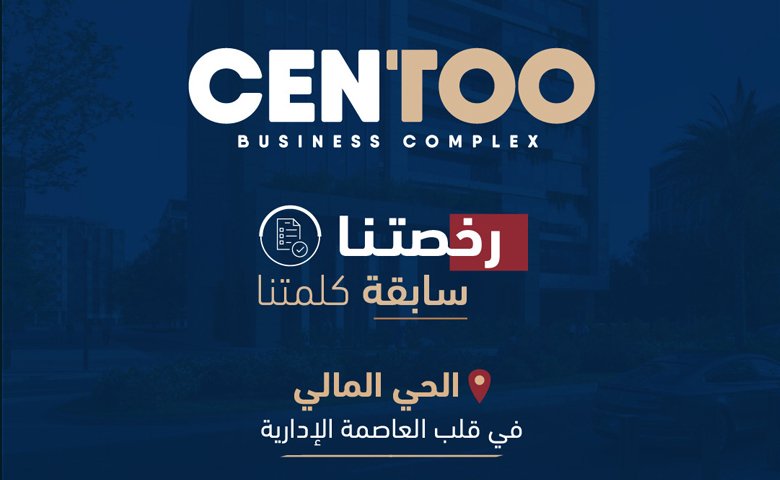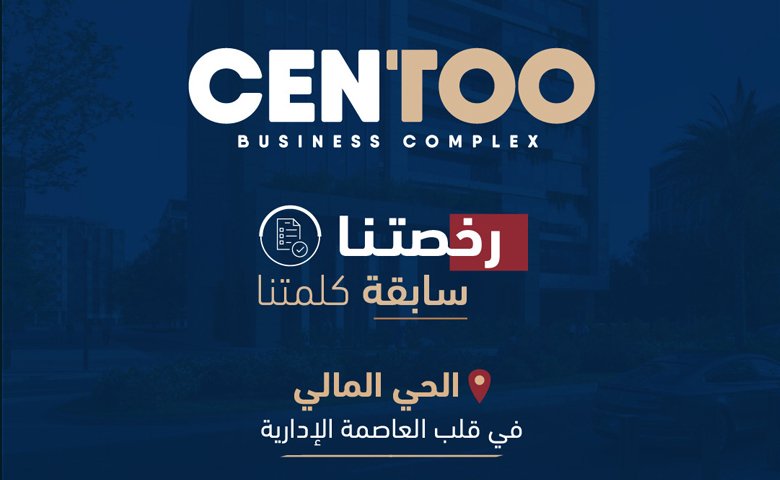 Centoo Mall New Capital (1 Properties)
Starting Price: 1.8M
Down Payment: 35 %
Installments: Over

10

years
Delivery Date:

2026
Description
The new administrative capital aims to present a noticeable development in the world of administrative buildings, as the new capital's vision aims to become an integrated city and a main center for attracting investment, both foreign and national investment. To achieve this vision, it was necessary to have a distinct set of administrative buildings that facilitate business owners to own their administrative units or offices.
The New Capital has many projects that encourage you to invest in it, and the projects vary between residential, commercial, medical, and administrative. And if you are looking for one of the administrative projects that provide you with different spaces and flexible payment systems.
We offer you the Centoo New Capital Business Complex project, which guarantees you comprehensive management, a premium location, and a guaranteed return on investment. Cento Administrative Building provides nearly 100 units with spaces starting from 50 meters. The price per square meter starts from 38.400 EGP. Al-Brouq Developments also provides installment systems that start with a 10% down payment and reach installments up to 8 years.
You can take a look at the latest administrative projects in the new capital through the projects page
Where Centoo New Capital location?
One of the biggest advantages offered by the Centoo Business Complex project is its privileged location. Centoo Business Complex has a direct view of one of the largest parks in the New Capital and overlooks the central axis with a width of 90 meters. In addition to all that, the Centoo Business Complex is located near the main landmarks within the New Administrative Capital, including:
Al-Massa Hotel
The Iconic Tower
The central train station
The monorail station
The Presidential Palace
The government district
The green river
Egypt mosque
Centoo Business Complex is also surrounded by a distinguished group of banks and financial institutions:
Cairo Bank
Egyptian Central Bank
Al-Ahli Bank
Egypt Bank
The Egyptian Stock Exchange building
Egyptian post office
What are Centoo Mall New Capital facilities and amenities?
One of the main factors that a huge role in the success of any office building is the range of services and facilities that are available both inside the building and in the surrounding area. This allows ease and convenience for business owners as all their business needs are met in one area. Among the Centoo Business Complex services that you will enjoy:
Green spaces and landscapes directly in front of the building.
Electric lifts.
Garages for cars.
Central air-conditioning.
WI-FI.
Security system and 24-hour cameras.
Meeting and conference rooms.
What are the spaces and unit types in Centoo New Capital Business Complex?
Al-Brouq Developments has taken care of the space and design. Centoo Business Complex is being implemented on a total area of 2,675 square meters and the building consists of a ground floor and 7 other floors. Centoo Mall is specialized in administrative units, as it offers 100 administrative units with various spaces offers to start from 45 meters. All units are delivered fully finished with air conditioning, which will make it easier for customers to start their work immediately upon receiving the units.
UNII Engineering Consultants is supervising the Centoo New Capital project. UNII is an international architectural and engineering company consisting of a unique architectural group of companies. UNII Company has a very distinguished precedent in the Gulf region in Dubai and Qatar, and one of its most prominent and famous projects is the participation in the establishment of the Qatar World Cup Stadium.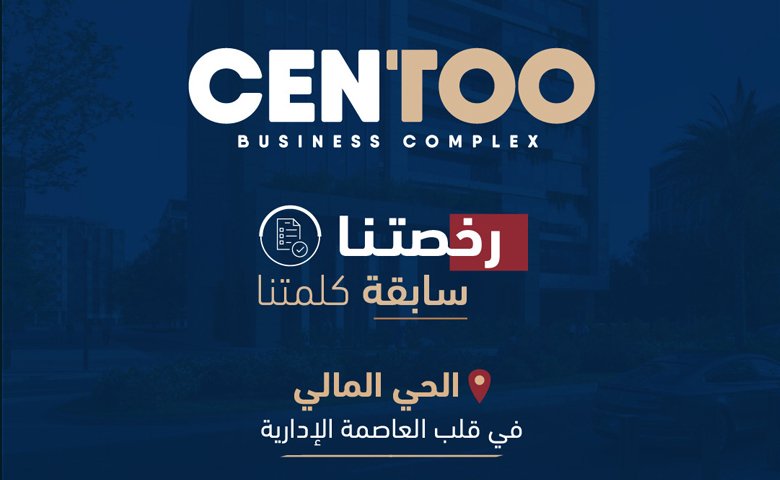 What is the Centoo Mall in the New Administrative Capital prices?
Brouq Company has been keen to offer very special prices that attract business owners and investors, the price per square meter starts from 38.400 EGP. It is worth noting that you can pre-book your unit, in the case of a bank transfer, you can pay 25,000 EGP and 30,000 EGP for checks and cash. The reservation amount is refundable in the event of cancellation or withdrawal.
What are the installment and payment systems in Centoo New Capital Business Complex?
There are different installment systems available in Centoo Business Complex, through which each client can select the best method that matches his financial plan. Centoo Business Complex installment systems are divided as follows:
In the case of paying a 10% down payment, the installment is up to 6 years.
When paying a 15% down payment, the installments will be over 7 years.
And if you pay 20% of the unit value, the installment is up to 8 years.
How to Book an office in Centoo New Capital?
If you would like to know more details about Centoo Business Complex prices and spaces, you can contact us directly on the following number. 01003366453
You can view the latest real estate projects within the New Capital through our website.
Compound Location
About the developer
Al Brouq Developments is the result of a partnership between a group of major companies in the Gulf region. This consortium has nearly 23 years of experience in real estate development, construction, the petroleum sector, as well as education. Brouq Developments announced its desire and plan to expand in the Egyptian market, especially in the New Administrative Capital. As a part of its pla... Read more