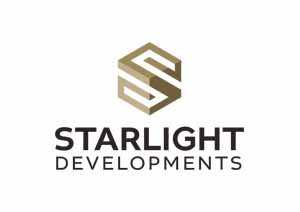 Starlight Developments
30 November 2021 Last Updated At
(0 Properties)
(2 Projects)
StarLight Developments is one of the leading Egyptian companies in the field of real estate development in Egypt. It is an Egyptian joint-stock company that is interested in creating high-end communities for more life and luxury. Starlight Real Estate and Tourism Developments have designed and devel... Read more
StarLight Developments is one of the leading Egyptian companies in the field of real estate development in Egypt. It is an Egyptian joint-stock company that is interested in creating high-end communities for more life and luxury. Starlight Real Estate and Tourism Developments have designed and developed distinguished and high-end projects, including; Katameya Coast North Coast, URBN K Project, and Kattameya Creeks New Cairo Compound.
Starlight Real Estate Development and Tourism have previously signed a contracting contract with Rowad Modern Engineering Company to start implementing the construction works of the Katameya Creeks Compound in New Cairo at an investment cost of EGP 3.1 billion.
Katameya Creeks Compound Fifth Settlement is an integrated residential complex with various units and spaces to suit all needs without compromising the green spaces, which constitute the largest percentage of the project, as the total area was divided so that the buildings do not exceed 16% and the remaining for the attractive landscapes. The compound is located in the heart of New Cairo city near Arabella Compound, Katameya Dunes, and Katameya Heights, only five minutes away from the German University, and a few minutes from Ain Sokhna gate. With underground parking, and a leisure club for residents.
Eng. Sherif Abu Taleb, Managing Director of Starlight Urban Development and Tourism, previously stated that the start of the implementation of the Kattameya Creeks unveils a new era for the Kattameya region, which we have succeeded over 30 years in transforming from a remote desert area into a dream for high-end housing for those wishing to acquire valuable units. Architectural and investment in New Cairo.

Katameya Creeks located on an area of 42 acres, with a construction percentage not exceeding 16% of the total area of the project, to give unique privacy to all units of the project, which are only 400 units, with varying areas and different designs designed in a modern classic style and surrounded by green spaces on all sides, served by underground parking. The land, a social club, and an area designated for shops and basic services for the residents of the project.
For details and price list please contact us at the numbers shown below to learn more details about the project, the areas offered, and the different payment methods.
You can also visit us to see the brochure of the Kattameya Creeks Project & choose your unit immediately. 01003366453- 01126662221
Starlight Real Estate and Tourism Development Company announced the launch of its distinguished project, Katameya Coast, North Coast, Katameya Coast. Katameya Coast Resort is located on the North Coast at Km 208 Alex-Matrouh Road. The width of the village of Katameya Coast North Coast is 550 meters, while its depth reaches 1,400 square meters.
The units of Katameya Coast North Coast vary between chalets, duplexes, penthouses, and standalone villas, and the areas of Katameya Coast units on the North Coast vary, as the chalets' space starts from 56 square meters, and the condo chalets' space starts from 175 square meters, while the spaces of duplexes chalets start from 275 square meters, while the spaces of twin houses start from From 275 m², standalone villas start from 395 m².
It is worth noting that the prices of chalets in the Katameya Coast North Coast project start from 4,200,000 EGP, and the prices of standalone villas start from 10,051,000 EGP, a payment system and a distinct and easy payment plan that suits all customers for purchase, with a 10% down payment and the rest in installments over 5 years. You can follow Inland Properties for real estate marketing to find out the location, size, design, spaces, prices, and payment plans of the Katameya Coast North Coast project, and you will also find 10 reasons why you should buy a unit in the Katameya Coast North Coast resort and village.
Katameya Coast North Coast project is the latest and most important coastal project. It has services and advantages that make it the best for you and your family to spend the best and most enjoyable times in the most beautiful landscapes.

To get the best offers and prices, contact us on the following numbers, you will find what you like, we have all the options to meet all your needs 01003366453- 01126662221
URBN K Commercial and Administrative Project
Starlight Developments announced the launch and launch of its new commercial and administrative project, URBN K, in the heart of Katameya in New Cairo, to be the first mixed-use administrative and commercial complex with a new and different modern concept, and an extension of the luxury residential Katameya Creeks project.
The URBN K project consists of 6 Buildings designed in a luxurious and unique architectural style, of which an entire building is dedicated to a "Boutique Hotel" managed by one of the largest hotel management companies in the world.
Each building in URBN K Project consists of three floors with an area of 1,500 square meters, each floor is divided exclusively according to the needs of companies and individuals, while maintaining the highest levels of privacy and smooth movement between the different buildings, and the number of units of the Urban Key project is 84 administrative offices and 31 commercial units.

URBN K is strategically located in front of the German University, 3 minutes away from 90th Street, 3 minutes west of Ain Sukhna Road, and 3 minutes north of the Ring Road, and it is one of the most attractive shopping sites in New Cairo. Young businesses with creative and artistic ideas, as it includes all the services needed by offices and their employees to perform their daily work in an atypical and comfortable manner, from modern gyms and international brands.