Hadaba October A Place To Call Home
Hadaba October A Place To Call Home
Inland 09 Sep 2019
Hadaba October A Place To Call Home
Home is the precious gift that awaits you at the end of every day, it is the peace you feel as you come closer. Imagine living in a place where tree-lined walkways wind their way through lush parks. Picturesque gardens and water bodies, merged with sunlight and shade, glimmer through the trees. A place, where the night is more illuminated than the day.. Discover a place where modern architecture merges seamlessly with the natural landscape, giving Home a whole new meaning, a place we call Hadaba.
Hadaba October Compound 33 Acres (Feddan) Total units 148 Standalone Villas - Twinhouses - Townhouses.
Where Happiness Begins
Hadaba homes are designed with a passion for excellence and meticulous attention to every detail at its heart to create an incomparable lifestyle. The linear concept in the project design has been integrated with this modern contemporary architectural approach creating a recurring special motif that is unique to Hadaba, and that brings it all together in unparalleled elegance, peace and harmony. Our contemporary design offers a variety of brilliantly designed Villas, Twin Houses and Town Houses with modern conveniences. They all offer generous space, light comfort, giving the ultimate mixture of beauty and benefits.
Villas Drive on the tree-lined boulevard, through your Villa's driveway gate into your own private carport. Walkthrough the double-height entry foyer and get whisked away by the magnificence and the uniqueness of it all. Step into your grand glass-lined living and dining area overlooking the walled private garden and an optional pool with its breathtaking panoramic views of the past and the future.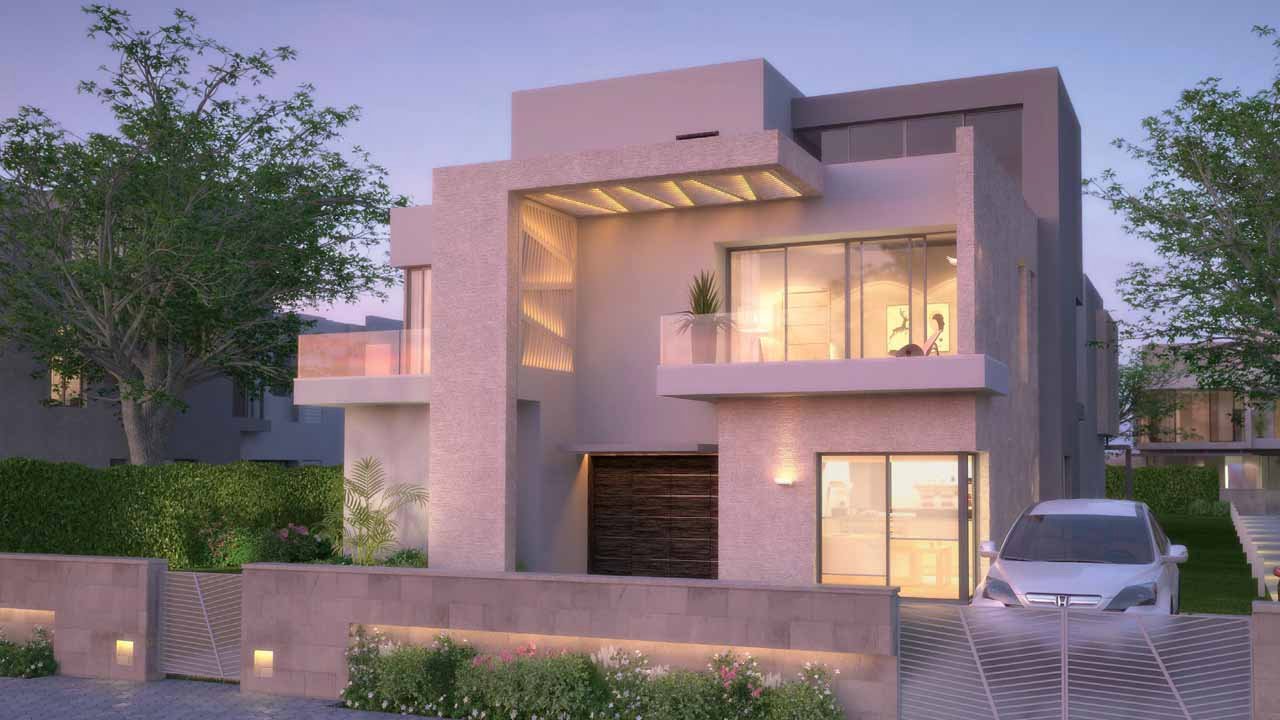 Hadaba Villas can come without a roof, residences with an exclusive private garden, optional basement and elevated terraces and rooftops that also allows you to entertain under the stars. The open vast spaces, natural light and surrounding greenery add a sense of balance and privacy. With ample room for living and working and multiple entertainment venues, this truly is a new experience in luxury. Hadaba villas are your kingdom and pride.
Twinhouse Villa Once you step inside, your pleasure, relaxation, and peace of mind become our ultimate aims. Furthermore, Twin Houses has been designed to ensure that each unit enjoy airy room and proper ventilation, open terraces and its own garden and private entrance.
A limited number of the Twin Houses, come with its own private roof that allows one to entertain, gather with the loved ones or merely sit and enjoy Hadaba's pleasant evening breezes with its fabulous view all year round.
Town House Villas Hadaba Town Houses are a product that has a unique concept for young couples and families that appreciate the modern living lifestyle. Our Town Houses come in 5 or 6 buildings clusters enjoying the panoramic views and greenery that Hadaba has to offer.
Each Town House has its own garden space that enhances the feeling of privacy and joy of your home.
What is Hadaba October Compound location?
Hadaba 6th of October located in 6th of October City near Hazem Hassan, beside Pyramids Hills & City View. has easy access to all major roads including the Ring Road and Cairo Alexandria Desert Road, and Sheikh Zayed City (throw Mehwar road). It is the perfect representation of style, prestige and quality in today's modern environment. It is close, convenient and at a comfortable distance from places that you will need to reach. At Hadaba... everything else is moments away.

What are Hadaba October Compound Facilities & Amenities?
Hadaba Compound Facilities: Whichever unit of Hadaba you choose to call home, you are welcome to make full use of the community's private recreation facilities. This includes pools surrounded by a wooden deck that is ideal for sunbathing and an inviting clubhouse that boasts comfortable seating areas, as well as recreational ones. Hadaba also features a spectacular, fully equipped fitness room, playground areas and sports courts and facilities Club House, Swimming Pools, Lake, Playgrounds, Gym.
A Suburban LifeStyle In An Urban Center
Topping it all off are the spectacular green spaces, parks, water features, passages, elevated walkways and scattered gathering areas that are accessible to all residents. At any point, wherever you are, cast your gaze in any direction and you will find a rich combination of natural and historic sights: The Giza Pyramids, the flickering city lights beneath and, of course, the charming 6th of October City skyline. Sit back in the clubhouse, walk with your loved ones, or enjoy the scenic, lush plant life that thrives naturally on the grounds and gazes into the horizon. Metropolitan meets History. A perfect vision, a perfect view.

What is Hadaba October Compound delivery date?
Delivery 3 years from the contract date. Finishing: Semi-Finished (Ma7ara)
What is Hadaba October Compound unit types?
(Units Without Roof - Ground Floor + First Floor)
Town House Middle BUA: 242- Land Area: 250 - Price: 3,850,000
Town House CornerBUA: 260 - Land Area: 400 - Price: 4,500,000
Twin House BUA: 300 - Land Area: 426 Up To 542 - Price: 7,000,000 Up To 8,000,000
Stand Alone BUA: 500 - Land Area: 733 Up To 890 - Price: 10,750,000 Up To 13,400,000

(Units With Roof - Ground + First + Roof)
Twin House BUA: 362 - Land Area: 365 Up To 513 - Price: 6,750,000 Up To 7,600,000
Stand Alone BUA: 587 - Land Area: 702 Up To 903 - Price: 12,000,000 Up To 15,600,000
What is Hadaba October Compound payment plan?
What are Hadaba October Compound Prices?
Hadaba 6th of October offers you 3 different payment plans
Option 1:
Down Payment: 5%
After 3 months: 5%
Delivery: 10%
The rest over 6 years (Equal)

Option 2:
Down Payment: 10%
After 3 months: 5%
Delivery: 10%
The rest over 7 years (Equal)

Option 3:
Down Payment: 10%
After 3 months: 10%
The rest over 7 years (Equal)
About the developer:
PRE was established in 2017 by Pioneers Holding Group with a plan to be one of the market leaders in the Egyptian Real Estate field, PRE-Developments seeks to offer the highest standard levels of performance in all its sectors. At PRE Developments believe in developing and constructing your dreams & turning it into reality. Vision is to maintain strong relationship with clients and the main profit is customer satisfaction and loyalty. The mission is to be one of the top ten developers in the Egyptian market and to penetrate the Middle East market in the upcoming 5 years. Sister Companies: Cairo Housing – Giza General Contracting - Rooaya Group – Electro Cable Egypt – United Housing – El Saeed Contracting – Giza Power – Arab Dairy – Universal Unipack.
Pioneers Real Estate PRE Existing Projects:
Stone Residence New Cairo – Stone Park New Cairo – Stone street "Retail and Offices Spaces – Point 90 Mall New Cairo – Hadaba 6th of October – Telal.
What are the payment plans for Hadaba 6th of October?
Hadaba compound offers you three payment plan to choose the plan that is right for you:
Payment Plan 1: Over 7 years instalments - Down payment 0% - Delivery 10%
Payment Plan 2: Over 8 years instalments - Down payment 10% - Delivery 10%
Payment Plan 3: Over 9 years instalments - Down payment 15% - Delivery 10%
Need to Know How to Book a unit in Hadaba 6th of October?
For Booking and more information in Compound Hadaba 6th of October please Call us on 01003366453 - 01126662221